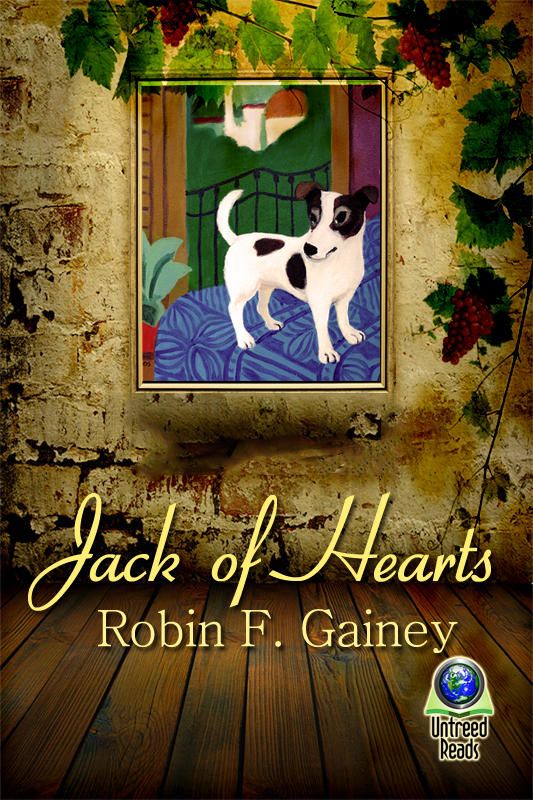 JACK OF HEARTS is a novel of literary fiction told from the point of view of a small, aristocratic dog named Shimoni.  This imaginative first novel explores themes of fidelity and honor and offers a fresh perspective of Italian culture and amore.
Shimoni's passions for Italian cuisine and Elvis are rivaled only by his devotion to his masters, a Roman Count and Contess. However, his discovery that Il Conte is having an affair imperils his comfortable life and plunges Shimoni into a quest to rekindle his masters' love and preserve his home.
The path to reconciliation leads Shimoni from the bustling streets of Rome to his owners' rustic villa in the Italian Countryside, where he outwits man and beast to save his family, all while making time to fall in love and sample the local Chianti.  Shimoni's (mis)adventures yield poignant observations about the nature of love and longing, and the soul's ability to find satisfaction.  An intoxicating blend of adventure, romance, and joi de vivre, JACK OF HEARTS will appeal to literary devotees, Italophiles and dog-lovers.  Ms. Gainey dishes up a sensuous story with plenty of heart, and empathy for the human, as well as the canine condition.
"A wonderful, funny, and touching novel. Shimoni is not simply a dog, he is our guide; he is our friend. Stay by his side, stay with his heart, and he will take you places you haven't been, and show you things you haven't seen: after reading JACK OF HEARTS, you will understand the true depths of love and devotion."
~~~~~~~~~~~~~~~
"This novel has freshness, originality and a huge heart of gold. Shimoni is one of the most unforgettable narrators I've ever read, and does he have a story to tell! I loved everything about this book."
~~~~~~~~~~~~~~~
"This is a most heartfelt and extraordinary work for a first novel.  Ms. Gainey moves easily out of the realities of our everyday lives into an unexpected turn of canine spirit.  It is an intriguing and wonderful read."
~~~~~~~~~~~~~~~
---
Light of the Northern Dancers
FINALIST
2018 WILLA Literary Award in Original Softcover Fiction
Available through Untreed Reads Publishing, iBooks, Amazon, or your Independent Bookstore!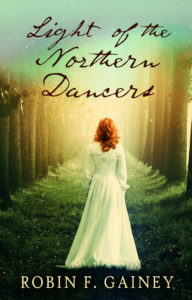 A story of two desperate and dynamic nineteenth-century women, each with a unique style. Fiery aristocrat, Eden Rose, uprooted from her native Scotland, has tended a foundering marriage and failing ranch at the corner of Crazy Woman Creek and the Powder River for a decade. Best friend, backwoods spitfire Maddie True, has her own woes a few miles away: widowed with six young children and caretaker to her addled father. Abandoned by her husband during the height of Wyoming Territory's worst drought in history, Eden depends on her inept brother, Aiden, to see her through the coming winter. But when he disappears into the wild Bighorn mountains, she shuns Maddie's fearful cautions, teaming with enigmatic Lakota Holy Man, Intah, to find him before the wicked snow holds them all hostage. Guided by spirit and love, their lives are transformed.
Light of the Northern Dancers is optioned and currently in development for a limited television series.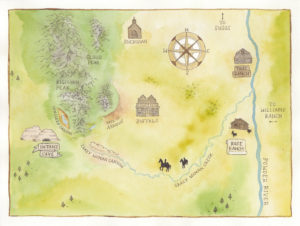 "Light of the Northern Dancers is a powerful novel of a woman's journey, thought-provoking and unsettling in its authenticity and unflinching honesty. Its exploration of the depths of heartbreak is unblinking, yet ultimately, this is a celebration of joy, possibility, and transformation. Robin Gainey's writing illuminates the past in all its brutality and beauty, and the humanity that binds us all together. This story underscores the power of endurance to heal and inspire hope. An unforgettable read that will live in your heart long after the final page is turned."
~~~~~~~~~~~~~~~
"Half of what happens to us may have reason, the rest is chaos. Somewhere down the line, chaos itself may find reason, as Nietzsche said, That which doesn't kill you, makes you stronger. Robin F. Gainey's second novel, LIGHT OF THE NORTHERN DANCERS, has this brand of existentialism. It's real and it doesn't let go! "
~~~~~~~~~~~~~~~
"Brutal and beautiful, unflinching and hopeful, Robin Gainey's LIGHT OF THE NORTHERN DANCERS reveals the triumphs and hardships of pioneer life in the Wyoming Territory in a powerful story of two women surviving against all odds. Gainey's prose is as lush as her story is gripping—a literary page turner!"
~~~~~~~~~~~~~~~
"A wonderful story, full of surprises. I highly recommend Robin F. Gainey's, Light of the Northern Dancers."
~~~~~~~~~~~~~~~
---